WELCOME TO THE 2016 SEASON!!!
Welcome to the Leslie B.C. website for the 2016 season.
WE START ON SATURDAY 9TH APRIL WITH A FRIENDLY FIXTURE AGAINST OLD FRIENDS DYSART B.C. ALL PLAYERS, EXISTING OR NEW ARE WELCOME: 2.00 P.M. START.
Follow the links from this page to our Pitchero site where you can find fixtures, results, league tables, details of events, and information on the club members' activity in internal competitions and in the Fife and Scottish competitions.%uFFFD
"Hat nights" start in April: every Wednesday night at 6.30pm, weather permitting of course. ANYONE who wants to try bowls is welcome to come along and try. We hope to see you soon........follow the website also for details of club events, including internal competitions, and special nights such as Quiz Nights, Bingo Teas etc etc
Welcome to Leslie Bowling Club!!!
This is the home page for our website: the links above and left link you to our main site, which is hosted by
.
Keep up to date with our news, events, fixtures, results, match reports and club competitions.
%uFFFD
Leslie BC are members of the Wemyss & District League, and affiliated to the Scottish Bowls Association, Fife Bowls Association, Scottish Womens Bowling Association and Fife Womens Bowling Association.
We also play a large number of friendly fixtures both home and away throughout the season, and there are numerous internal competitions.
%uFFFD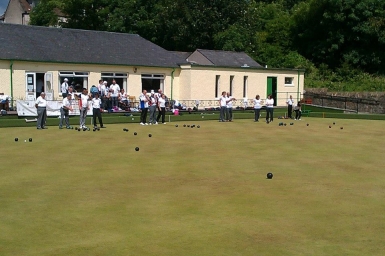 ------------------------------------------------
%uFFFDJOIN THE WEBSITE!!! WHETHER YOU ARE A PLAYING MEMBER OR A SUPPORTER, REGISTER WITH THE
WEBSITE TO ACCESS MATCH REPORTS, TEAM SELECTIONS ETC.